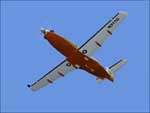 The Pilatus PC-12 from Flight1 Software
The current incarnation of The Hopper is the Pilatus PC-12 package made available by Flight1 Software for Microsoft Flight Simulator 2004. It features an incredibly accurate flight model, a fully animated, finely textured exterior, complete documentation and an operations manual rendered in Shockwave. There are templates so you can edit the textures in Photoshop as well. All of this wonder comes at a price, though. Flight1 Softeware packages aren't freeware, but we find it worth the investment. Beware: This softwarenly works in Windows2000 and the GPS has no map function for the navigationally challenged. Regardless, there is no matching this fidelity. Period.

For more information on the Flight1 Pilatus Pc-12, visit the people at Flight1 Software.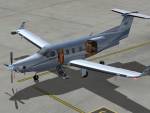 The Pilatus PC-12 by AFG
If you don't want to spend the money, the Allied FlightSim Group (AFG) and designer Jacob de Churruca have put together a flight model of the Pilatus PC-12 that is quite good. This model features an accurate depiction of the PC-12's performance and has a splendid visual model available with a variety of textures and paint. Best of all, it's free. If you can get through the panel installation, it becomes quite a plane.

To download a copy of this fine flight sim aircraft for yourself, visit the Allied Flightsim Group at www.alliedfsgroup.com
About the Real Pilatus PC12
One powerful turboprop engine with a large and capacious airframe built for a range of tasks. The Pilatus PC-12 earned Swiss and US certification in 1993. The aircraft was designed with speed, long range, reliability, and durability in mind. Faster than a Cessna Caravan and with longer legs than a Beech King Air it is no wonder why the aircraft has been chosen by airlines, air taxi operators, militaries and government agencies around the world.

Thoroughness in design by its engineers is evident throughout the Pilatus. The robust PT6-67B engine produces 1, 780 shaft horse power, driving a Hartzell four-bladed propeller. The aircraft's T-tail was chosen to avoid potential damage from cargo loading equipment. Its fuselage was fitted with a large upward-opening freight door on the port side (perfect for capricious amounts of beer), while passenger entry is via an integral set of stairs behind the flight deck. The PC-12 has earned its reputation amongst passengers and freight. Comfortably configured with 9 airline standard seats or 6 VIP seats it truly is a favorite for commuting passengers and executives. A combi layout allows for 4 passenger seats and a dedicated cargo configuration provides operators with 330 cubic feet of cabin space.

For more information on the real Pilatus PC-12, please visit the Pilatus Aircraft Company at www.pilatus-aircraft.com .
Another great article on the aircraft and its amazing versitility can be found at avbuyer.com .


Technical Specifications

TYPE: Pressurized, single turboprop utility aircraft
COUNTRY OF ORIGIN: Switzerland
DIMENSIONS:
Wing span: 53 ft 3 in (16.23 m)
Length: 47 ft 3 in (14.4 m)
Height: 14 ft (4.26 m)
POWER PLANT:
The airplane incorporates a twin shaft turboprop engine with 4 axial and 1 centrifugal compressor stages, an annular combustion chamber, and a 3 stage turbine where one stage drives the compressor and two stages power the propeller. A 4 bladed Hartzell propeller is fitted.
Takeoff horsepower rating: 1, 200 shp
WEIGHTS:
Maximum Ramp Weight: 9, 083 lb (4, 120 kg)
Maximum Takeoff Weight: 9, 039 lb (4,100 kg)
Maximum Landing Weight: 9, 039 lb (4, 100 kg)
Maximum Zero Fuel Weight 8, 160 lb (3, 700 kg)
Maximum Cargo Weight:
Baggage Area: 400 lb (180 kg)
Cabin Area: 2205 lb (1000 kg)
Typical Airplane Weights:
Empty Weight: 5, 439 lb (2, 467 kg)*
Useful Load: 3, 600 lb (1, 633 kg)
*Empty weight of standard airplane without 9 passenger seats and cabin floor covering.
PERFORMANCE:
Flight load limits with flaps up: + 3.4 g, - 1.36 g
Flight load limits with flaps down: + 2.0 g, -0.0 g
Maximum Operating Speed (Vmo): 240 KCAS / 236 KIAS
Maneuvering Speeds (VO):9039 lb (4100 kg) / 154 KCAS / 151 KIAS ____ 5730 lb (2600 kg) / 123 KCAS / 120 KIAS Maximum flap extended speed (VFE): < 15 degrees flap / 165 KCAS / 163 KIAS & > 15 degrees flap / 130 KCAS / 130 KIAS
Maximum landing gear operating speed (VLO): 180 KCAS / 177 KIAS
Maximum landing gear extended speed (VLE): 240 KCAS / 236 KIAS
Maximum Operating Altitude: 30, 000 ft (9, 144 m)
Maximum cabin pressure differential: 5.75 psi
CAPACITY:
Minimum Flight crew: One pilot in left hand seat.
Passenger Seating:
Corporate commuter: A maximum of 9 occupants plus pilot(s)
Executive interior: A maximum of 6 occupants plus pilot(s)
Total fuel capacity: 406.8 US gal, 2, 736.5 lb (1, 540 liters, 1, 241 kg)
Total oil capacity: 3.6 US gal (13.6 liters)
Maximum Cabin Width: 5 ft 0 in (1.52 m)
Maximum Cabin Length: 16 ft 11 in (5.16 m)
Cargo Door Dimensions: Width 4 ft 5 in (1.35 m) X Height 4 ft 4 in (1.32 m)
Baggage compartment volume: 34.3 cubic ft (0.97 cubic m)
Cabin compartment volume: 326 cubic ft (9.23 cubic m)